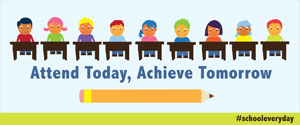 Ensuring punctual and regular attendance at school is a legal requirement.  Absence and/or persistent lateness from school without good reason is an offence and may result in prosecution. Our minimum attendance target for every child is 96%, and we value the support we receive from parents/carers in helping to achieve the best possible learning outcomes for their child/children.
Please download our attendance policy and summary information leaflet by following the links below:
Request For Absence for exceptional circumstances
We are here to help, so please contact the school office if you wish to discuss any specific attendance/punctuality issues.